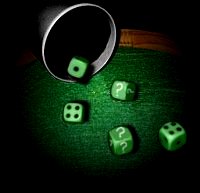 Existing players, log-in here
Features of Freethedice.com
painted or rainbow
win free dice to play your yatzy games
other special yatzy games rules available
play multiplayer, against 2 or more others players
many free tournaments every day
fun and friendly at-home community atmosphere
entirely browser based gaming community
triple
we also welcome players searching for other variants: yazi, yahtzi, yahtze, yazy, yachtzy, yachtzi, yachtzee, yatzee, yhatzee, yahtzy :) gratis spielen kniffel, jouer jam en ligne gratuis, balut
entirely free to play - NO DOWNLOAD required at any point
or play alone, solo in solitaire
Founded in 2006!
freethedice.com is a very popular online yahtzee game community, founded in September 2006 by three administrators, Kal, inqov and Mary. I am very happy to be able to say that our small community has become a daily hangout for many people who enjoy yahtzee. The games here are free and also will be, although we do have a dice shop containing different coloured dice and animated dice to brighten up your gaming experience.
Our major goal was to create a games site that focuses on playing games and having fun and to create an atmosphere where people chat whilst playing.
Why not take a peek inside our site and register now for free, to get started and start playing yahtzee today with some great people?