What is Painted/Rainbow Yahtzee?
Painted yahtzee is a special version of yahtzee that uses dice with different coloured faces. This opens up a lot more possibilities of how to roll the dice and possible scoring combinations, so the scoresheet has a few additional spaces related to colours. In my view, it's the best version of Yahtzee.
Whilst it is easy to get hold of the rules and scoresheets for painted yahtzee, download and print them, it is not very easy to find where to buy painted yahtzee dice, so the best bet is just to make them yourself.
What you will need: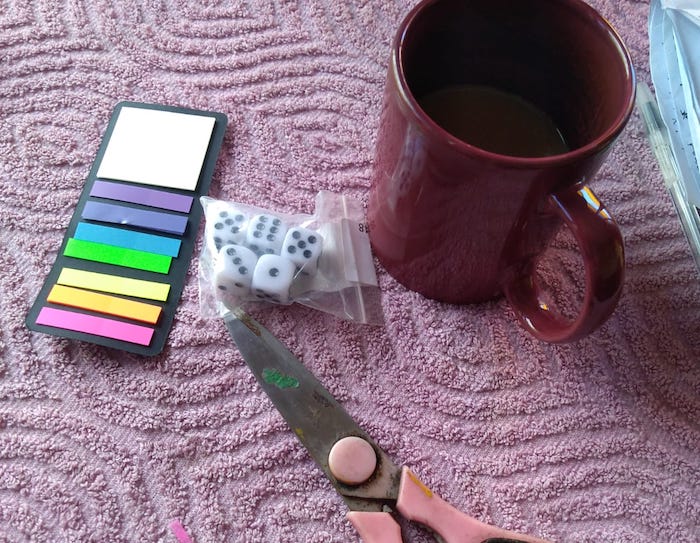 Configuration of dice
The five dice have different colours for each of the six faces. This really affects the gameplay as the colours and numbers combination on the dice makes a difference to the permutations available.
Here is the setup I use on freethedice.com
| | | | | | | |
| --- | --- | --- | --- | --- | --- | --- |
| | 1 | 2 | 3 | 4 | 5 | 6 |
| Die 1 | RED | GREEN | YELLOW | BLUE | PURPLE | RED |
| Die 2 | YELLOW | RED | GREEN | YELLOW | BLUE | PURPLE |
| Die 3 | GREEN | PURPLE | RED | GREEN | YELLOW | BLUE |
| Die 4 | BLUE | BLUE | PURPLE | RED | GREEN | YELLOW |
| Die 5 | PURPLE | YELLOW | BLUE | PURPLE | RED | GREEN |
Whatever your method, you should colour the dice faces and then fill in the numbers or spots if you need to do that and then you're ready to play, it's really that easy!
I am really not very artistic and it turned out that all I could get hold of was translucent book marker tabs. These are really not at all suitable, they are too narrow and not very sticky and very tricky for me with my big, clumsy hands to cut into perfect shapes. I would definitely recommend either painting the dice or using circular stickers instead! But even then, with my very low quality setup, I was able to make painted dice and play a decent game of painted yahtzee with them. It works just fine.
I did find some links to where to buy dice and a suitable size of stickers via Amazon. There are different options available depending on your local Amazon, so based on what I found I propose different methods for UK and USA. I went for the options that are the cheapest and most convenient. I did not investigate for other countries, but you should be able to follow similar ideas for yourself.
Amazon UK
If you're using Amazon UK I would go for these. Starting with a set of wooden 16mm dice and some coloured sticker 10mm labels. I'd then write the numbers on the coloured circles and then stick them on the dice. Good luck!
£3.89 - Pack of 10 x 18mm plain wooden dice
£2.99 - Coloured sticker circles 10mm
AMAZON USA
It seems to be much harder to buy cheap and good quality blank dice in Amazon USA, so I would go for a set of ordinary dice and then put stickers on them, covering up the numbers. Remember to write the numbers on the stickers before applying them! You may need to use a simple paper glue if the stickers don't grip well. Experiment.
$5.99 - Pack of 5 x 16mm white dice
$9.95 - 1/4" (6mm) pre-numbered circular stickers
This seems to me to be hyper expensive but this is all I could find on Amazon. They're also a little bit small but at least have the numbers printed on them already.
Alternatively you can find these equally expensive options from Walmart, but these are a little bit big and will be a tight fit on the dice:
$8.98 - 16 colours of 1/2" (13mm) circle stickers at Walmart
$7.50 - 12 colours of 1/2" (13mm) circle stickers at Walmart.
My Sample of Homemade Painted Yahtzee Dice
I am certain you can do better than me but even this attempt produced a perfectly playable set of dice! So if those are usable then for sure you can do it.
How To Film Without A Tripod